Most small business need a combination of federal, state and local licenses and permits. Every business has its own specific requirements but there are some general guidelines to follow on how to apply for license and permits for your business..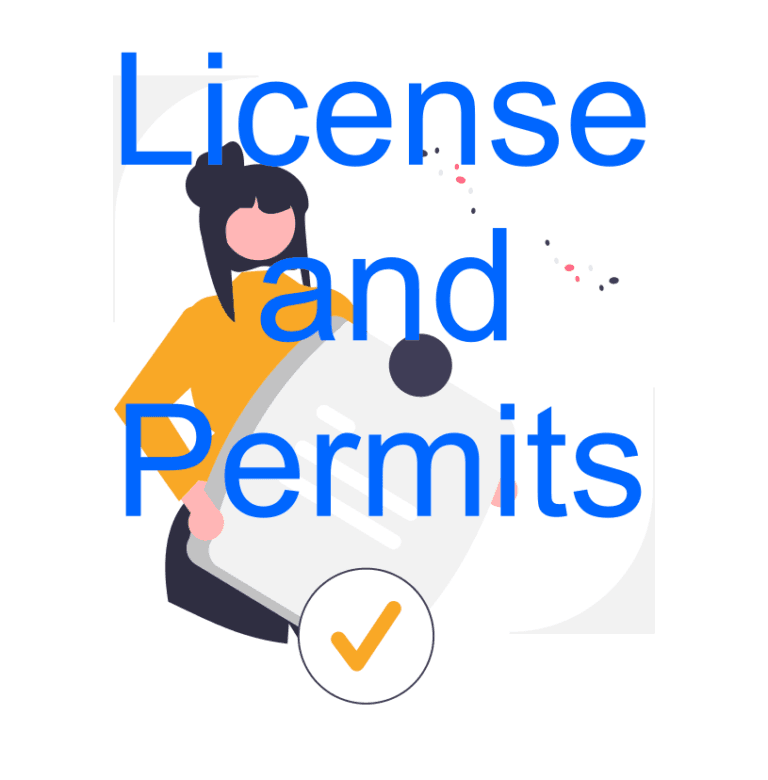 Applying for a licenses and permits is not difficult but it can take some time and money. When you apply for a small business license, be prepared to wait for a little while to get the approval for your license. Some states and local cities allow you to apply online and this can speed up the process and make it easier for you.
7 Tips To Apply For License And Permits.
Obtaining and applying for licenses and permits for your specific business can vary depending one the type of business your are starting and the location where you are bases out of. Here are some general steps you can follow to apply for the necessary permits and licenses.
1. Determine what license and permits are required for your business.
The first step is to determine what license and permits are required for your business. When starting a business, it is important to know what license and permits you may need in order to operate legally. Depending on the type of business you plan on running and the location in which you are planning to open, there are different rules or regulations that apply.
First, do research into your local laws, as well as your state or federal laws. Make sure you are familiar with all of the requirements based on your type of business and take note of any special licenses or permits you need. licenses.
Don't forget to keep all permits and licensing information up-to-date– renewal dates come up faster than expected!
2. Research the requirements for obtaining each license or permit.
Once you have determined what license and permits you need for your business, you will need to research the process and and requirements for obtaining each one.
Researching this information can be a challenge, especially if you don't know exactly what kind of license or permit is required or where to find it.
Start by consulting reliable resources like the Secretary of State website in your home state or applicable federal agencies that provide business licensing services. This will help you identify the requirements for each license or permits you may require for your type of business.
In addition, you can consult with a qualified professional such as an attorney or accountant who can provide you with comprehensive and up-to-date advice on what documents are needed in order to keep your business compliant with local, state and federal regulations.
3. Gather the necessary documents and information
In order to apply for the license and permits you need for your business you will need to provide certain documentation.
You'll also need to show proof of identification, your business address, and have your company's Articles of Incorporation ready. Depending on the nature of your business, you may also be asked for zoning permits, additional forms from the Internal Revenue Service (IRS), proof of insurance, a business plan, and any other certificates related to the operations of the business. It's important to remember to pay attention to local laws and regulations that may call for additional documents or fees.
4. Submit the application
Once you have gathered all the necessary documentation, and everything else in place it is time to submit the application. This may involve filling out forms online, submitting in person, or sending in forms by mail.
5. Pay the fees
Most license and permit applications require you to pay a processing fee or application fee. Make sure to pay any fees or your application may not be approved in a timely manner.
6. Wait for approval
Once you have submitted your application and paid the fees you are going to have to wait for the approval process to start. This can take anywhere from a couple of day to months depending on your industry and the agency that is in charge of approving your application.
7. Keep your license up to date.
Once you have obtained your license it is important to keep it up to date. This can include paying a yearly fee and keeping all your information up to date.
Federal Licenses And Permits
If your business is regulated by a federal agency you will need to apply for a federal license and permit. Requirement are dependent on the federal issuing agency and it is always best to check with them for the details and costs to obtain a federal license and permit.
The SBA has put together a handy chart for the most popular business that require federal licenses and permits and who the issuing agency is. You can find the chart here.
State License And Permits
The license that you need for the state will be dependent on the state that your business operates out of and where your business address is.
States regulate a larger range of activities than the federal government.
Local License And Permits
Each city, county and municipality is going to have specific licenses and permits for operating in its area. It is important to research specifically what is needed for your business.
It is essential to first research all the requirements before you begin and to be aware of any additional regulations such as zoning restrictions. You may need to submit detailed plans and documentation related to your business like health inspection reports. Make sure everything is submitted with accuracy and on time, so that you do not find yourself with an application delay or denial.
Taking the time to properly prepare yourself and collect all the necessary materials will prove beneficial in the long run as it will help you gain authority and legitimacy from potential customers when conducting local business.
Can You Register Your Business Online By Yourself?
You can register your business online in most cases by yourself. It is important to have all the forms and supporting documentation that you need before you start.
The process for registering a business online can vary depending on the type of business you are registering and the state where your business operates out of.
The Different Types Of Business License And Permits
There are many different types of business licenses and permits that are required depending on the type of business you are in and the location that you are operating your business out of.
Here are some of the most common business licenses and permits:
The Bottom Line
You are now on your way to getting started with your own business. Applying for a license and permit can take a while but it is a necessary part of the journey.